A brief history of HALOSTAGE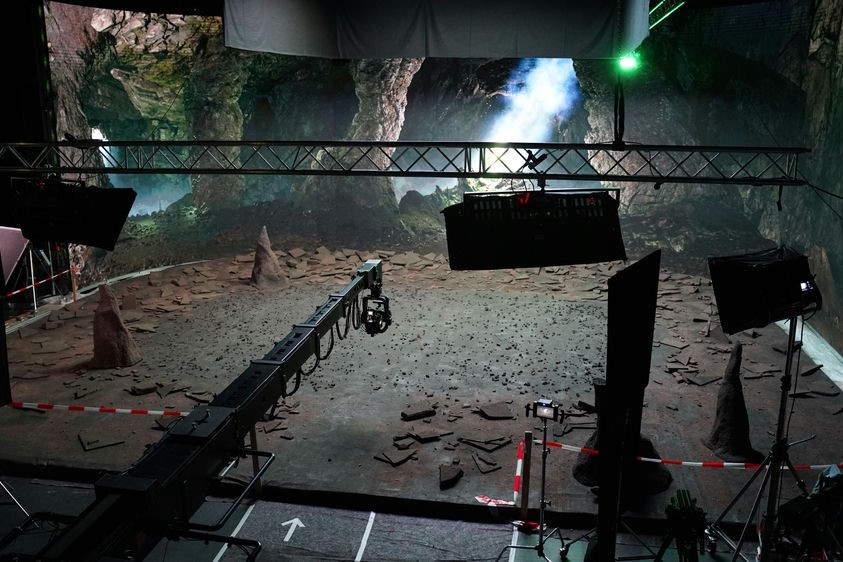 At the end of 2020, the three founding members of HALOSTAGE officially founded the company on the legendary Studio Babelsberg lot near Berlin. The founding members included the ICT AG as the hardware and operations specialist, MBF/Kamera Ludwig as the expert for camera and rental hardware and LAVAlabs as an established VFX vendor. Shortly after, the three companies and their experts came together for a first tech test and demo-shoot to figure out the ins and outs of the technology and to see where more work is needed. And more work was needed. The team spent the next weeks intensely solving one challenge after the other and getting ready for their first production.
In the beginning of 2021, the first "real" production took place at HALOSTAGE. The legendary Jürgen Jürges, a DOP who shot alongside Fritz Lang, tested the technology for its new capabilities and possibilities. And once the ball was rolling, there was no stopping it. Soon after, Mercedes with Amos Fricke captured their new campaign at the volume and HALOSTAGE started to empower the next generation of filmmakers by cooperating with multiple universities and offering free-of-charge shoots at the Babelsberg location. At the end of 2021, HALOSTAGE went mobile for the first time for "Poor Things", a new film by Yorgos Lathimos, shot in Budapest. The crew temporarily set up a 600sqm wall within a week and operated it during its entire duration.
2022 was the year of new developments. While still completing one shoot after the other, the team and researchers partnered with different industry professionals all over the world to push the capabilities of the technology forward and to address the different limitations. What came soon after was the first freely curvable LED cabinet used for ICVFX at a large scale. The HALOSTAGE Babelsberg soon upgraded to this new cabinet and used it on different productions for Netflix, Studiocanal and different commercials. After proving the success of the first development, the team shifted their focus to the first submergible, ICVFX-capable LED, which is currently being tested in different studios with water tanks around the world.
With the start of the new year, HALOSTAGE decided to become fully mobile. That means, that any production of any size, anywhere in the world has now access to the top-notch technology and crew, that has been tested on the biggest productions. HALOSTAGE is able to meet any budget to enable any production to count on the advantages of this technology.
More questions? Ideas? Projects?
Get in touch!